Home Made Tortillas: :)
While away camping with her family, Renee' (Unique Touch Photography) decided to try the following recipe for Tortillas… They were a hit with everyone and easy to do.
Thanks for sharing Renee'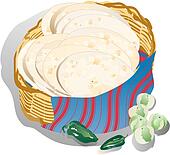 Ingredients:
4 cups flour,
1tsp baking powder,
1tsp salt,
1/2 cup shortening,
1 cup water.
Method:
Mix the dry stuff together.
Cut in the shortening until it's crumbling.
Make a hole in the batter and add the water a 1/2 cup at a time mix until you have a dough….
Cover and let it sit for 10 mins. On a floured surface, cut into 8 small balls about the size of eggs. Roll out in a circle until they're about 6 in wide.
Cook in a good size frying pan over med heat for 30 sec to a min our until it starts to get air bubbles and slightly browns. Flip and cook the second side. Warning, the second side cooks faster so really keep an eye on it.